Patented "Top-Loader" Jaw System provides the operator with a safe method for changing jaws. With the twist of the locking handles, the jaw system can be quickly removed in one piece providing convenient jaw and die changes on the bench, keeping hands from the confines of the tool.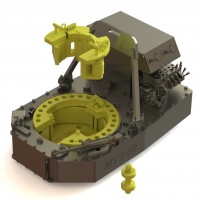 Mech-Tech's patented dumbbell roller system uses a tapered design, with a mating taper on the ring gear to provide a smooth roller to gear contact, keeping the gear teeth off of the dumbbell. Also threaded mounting holes and aluma-bronze keeper nuts protect the tong body from damage, preventing typical "egging" of the dumbbell mounting holes seen in other tools.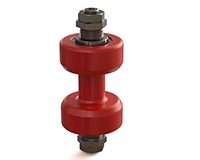 Mech-Tech's patent pending Roller Pin Drive System utilizes ultra-high strength pins and bushings in both the ring gear and main pinion gear, mating to a specialized wave idler gear. This technology provides extremely smooth operation, at slow speeds and very high torque, producing the smoothest makeups possible. This revolutionary drive train also allows for complete serviceability of the ring gear and pinion gear.